Breaking News:
DJI OSMO Action was released May 15th. This article is currently re-worked after the specs were announced.
Check out DJI's website: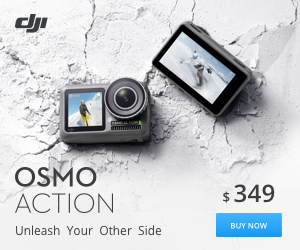 Also check out my article how DJI OSMO Action compares to GoPro Hero7 black: DJI OSMO Action vs GoPro Hero7 black
DJI OSMO Action Camera
There were a lot of rumours, but now it is set: DJI will release an action camera on May 15th called: DJI OSMO Action.
Here's what we know before the launch:
Besides the the packaging of the new DJI OSMO Action Camera here are some graphics of the camera:
Body Design
So what can we expect? The camera will feature two screens, a touchscreen on the backside of the camera, and a display on the front. Compared to GoPro Hero7 black the front screen will also show images, not only data like on GoPro.
According to their release teaser on their website (which shows someone diving) we can expect the camera to be waterproof without case. I think we can take that as granted as DJI has to differ the Osmo Action from the Osmo Pocket. Compared to Osmo Pocket the action camera will also feature exchangeable batteries. To me the built-in battery of DJI Osmo Pocket is one of its biggest downsides.
Similar to GoPro Hero7 black the body design is minimalistic. There are just two buttons on top of the camera, a record button and a mode button. Similar to GoPro it seems the camera is using a frame for mounting with the popular GoPro mount system on the bottom. Unfortunately, same as GoPro and Osmo Pocket, there is no mount directly on the camera.
Specs
A few specs that are rumored so far: DJI Osmo Action Camera will hold a 1/2.3″ 12 MP Sony sensor, most likely IMX277. That's the same sensor used in GoPro Hero7 black that enables 1080p 240fps video recording, which will be available on DJI OSMO Action as well:
Regarding the lens I've heard that Osmo features a 145° F2.8 lens, which sill offer a narrower field of view compared to the very wide angle 170° lens that's used by GoPro. Therefore we can expect less fisheye effect, that's something many users dislike.
Since the new action camera is called "Osmo" which was always used with products featuring stabilization, we can expect image stabilization. I'm not sure which type at that point. Will there be a small physical gimbal stabilizing the sensor, like in many mirrorless cameras? Or will there be electronic image stabilization? And how good will it be compared to GoPro Hero7 black?
Stay tuned, it's only a few days until we find out!